My Financial Independence Journey » Stock Analysis » AT&T (T) Dividend Stock Analysis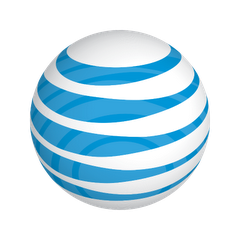 AT&T (T) provides telecommunications services to consumers, businesses, and other providers in the United States and internationally.  AT&T has three main business segments.  1) Wireless, which includes local voice and data services and roaming services.  It also includes the sale of handsets, wireless data cards for PCs, and other accessories. 2) Wireline includes land line phone service, dial-up internet, broadband services, and U-verse (T's fiber optic service). And the aptly named 3) Other business segment which includes application management, security services, integration services, customer premises equipment, outsourcing, government-related services, and satellite video services.  As of June 2013, the company had 30 million voice connections (down 11.5% from a year earlier) and 16.5 million broadband connections (down 0.1%).
T Basic Company Stats
Ticker Symbol: T
PE Ratio: 25.58
Yield: 5.4%
% above 52 week low: 11.1%
Beta: 0.33
Market cap: $177.44 B
Website: www.att.com

T vs the S&P500 over 10 years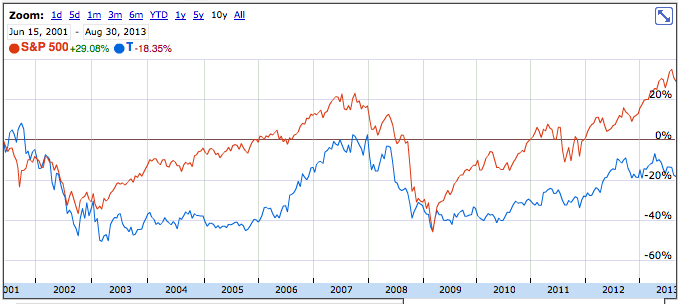 T has generally underperformed the S&P500 over the last 10 years.  An investment in T would have shrunk by about 18.35%.  The S&P500 would have experienced a gain of approximately 29%.
T Cash Flow & Revenue Growth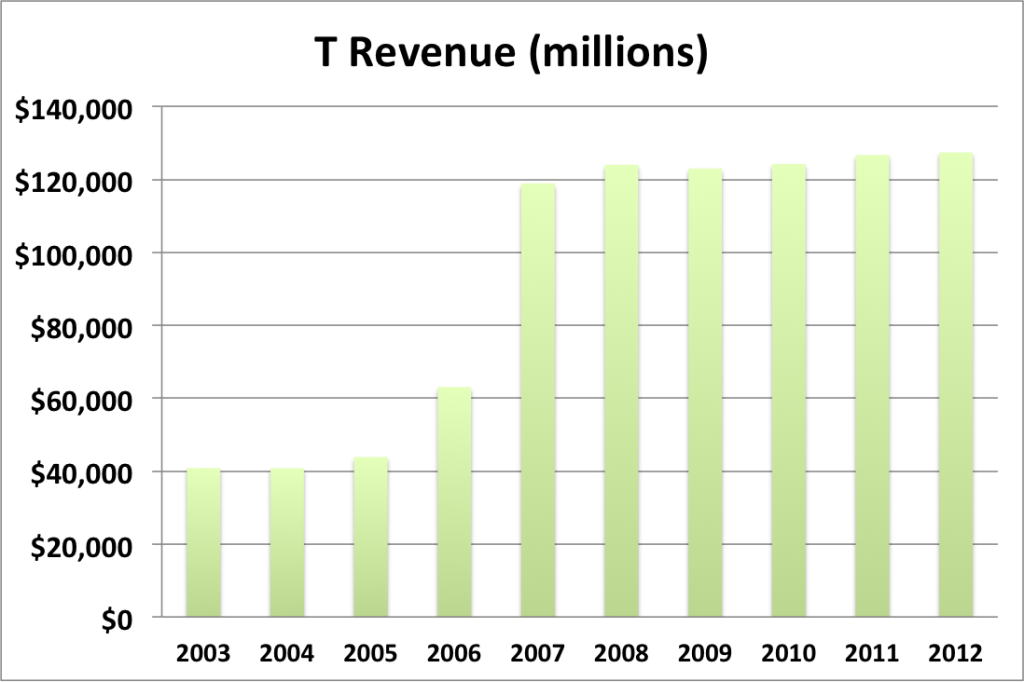 1 year revenue growth: 0.6%
3 year revenue growth: 1.3%
5 year revenue growth: 0.7%
10 year revenue growth: 13%
Revenue growth for T was mostly flat, followed by a small bump in 2006, a huge bump in 2007 (thanks to the iPhone).  And then it went back to being generally flat.  While this is a fascinating example of how the introduction of new technology can affect a company for the better, it is also an example of how once that technology reaches saturation (every carrier now offers some kind of smart phone, and almost everyone who wants a smart phone now has one) growth can return to a trickle.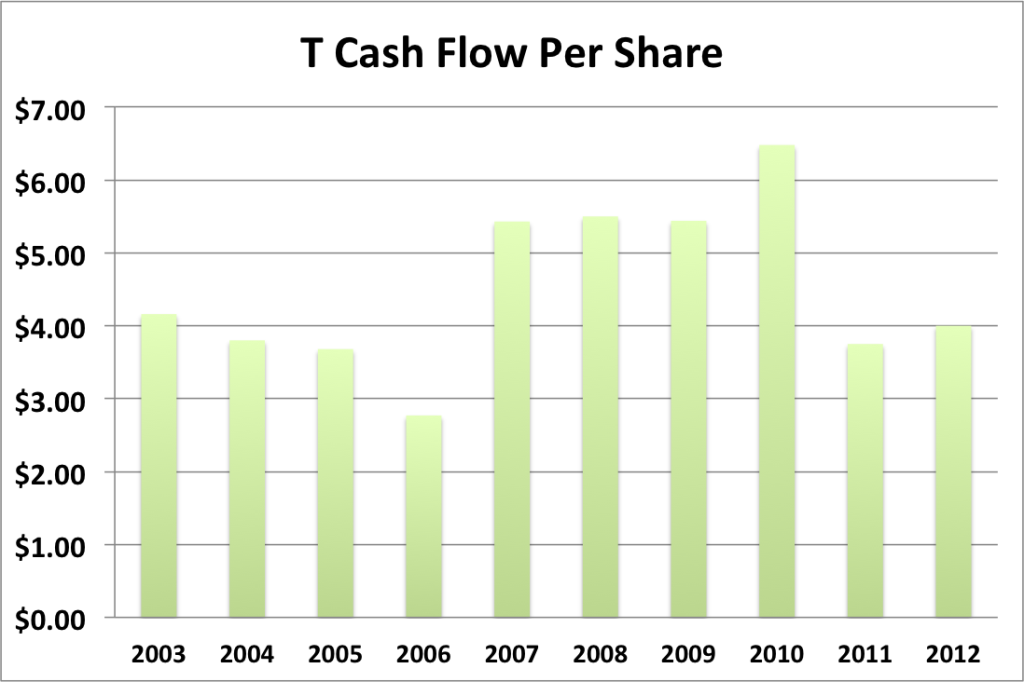 T Earnings Per Share (EPS) & Dividend Growth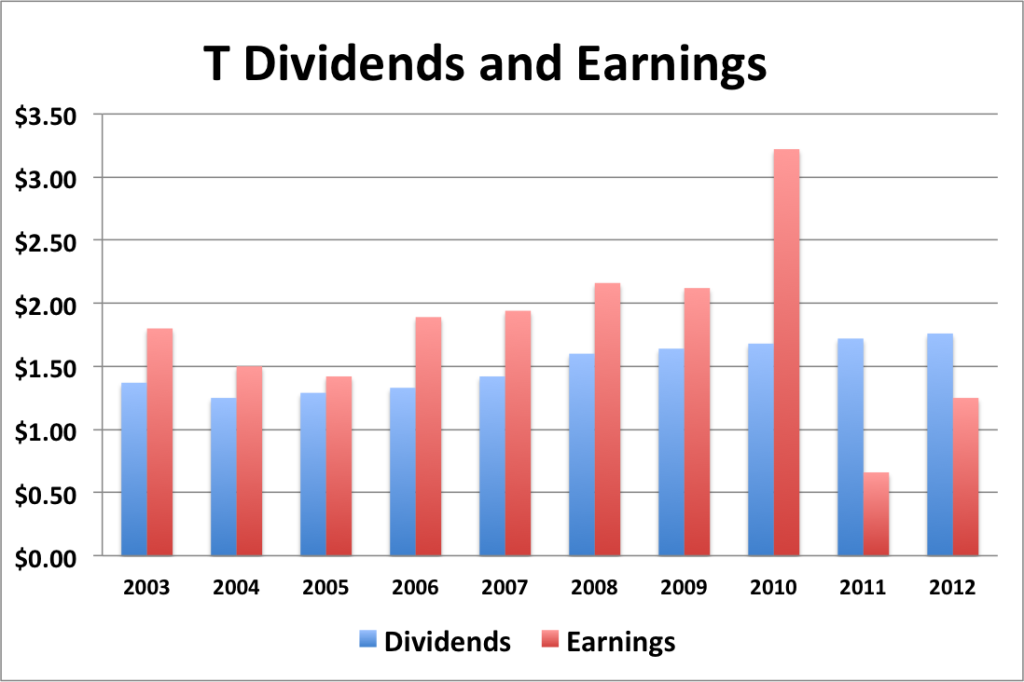 1 year EPS growth: 89.4%
3 year EPS growth: -37.73%
5 year EPS growth: -12.8%
10 year EPS growth: -4.0%
EPS growth has been pretty erratic for T, but it's important to keep in mind infrastructure depreciation is deducted from EPS so these numbers might not be as reliable as you would think.  So let's turn our attention to cash flow once again.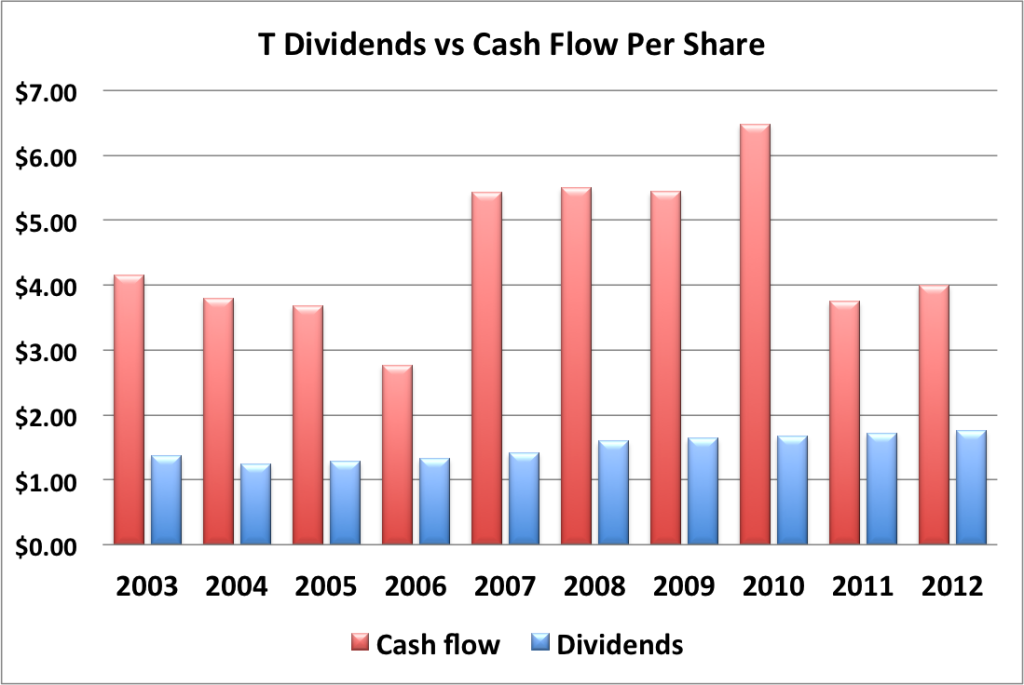 This shows a much more optimistic picture.  Cash flow growth is erratic, but the dividend payments are easily covered.
1 year dividend growth: 2.3%
3 year dividend growth: 2.4%
5 year dividend growth: 2.4%
10 year dividend growth: 2.8%
T's dividend growth is slow and steady at around 2.4% or so.
With a starting yield of 5.4% and a growth rate of about 2.4%, T's yield on cost will grow to about 7% in 10 years.  In order to double the dividend, using the rule of 72, it will take about 30 years.
T Payout Ratio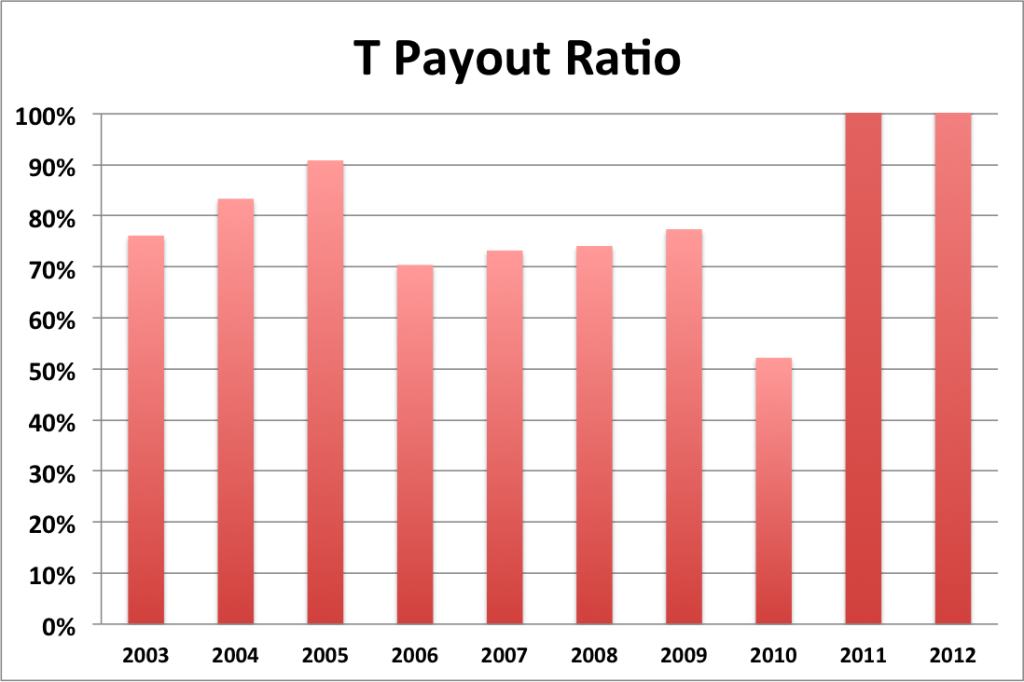 As you probably could have guessed based on the above comparison of dividends to earnings, the payout ratio as traditionally calculated (dividend/EPS) is perhaps a bit shaky.  And the current chart supports that assumption.  So once again, we turn our attention to cash flow.  This time, examining a payout ratio constructed from dividends  divided by cash flow.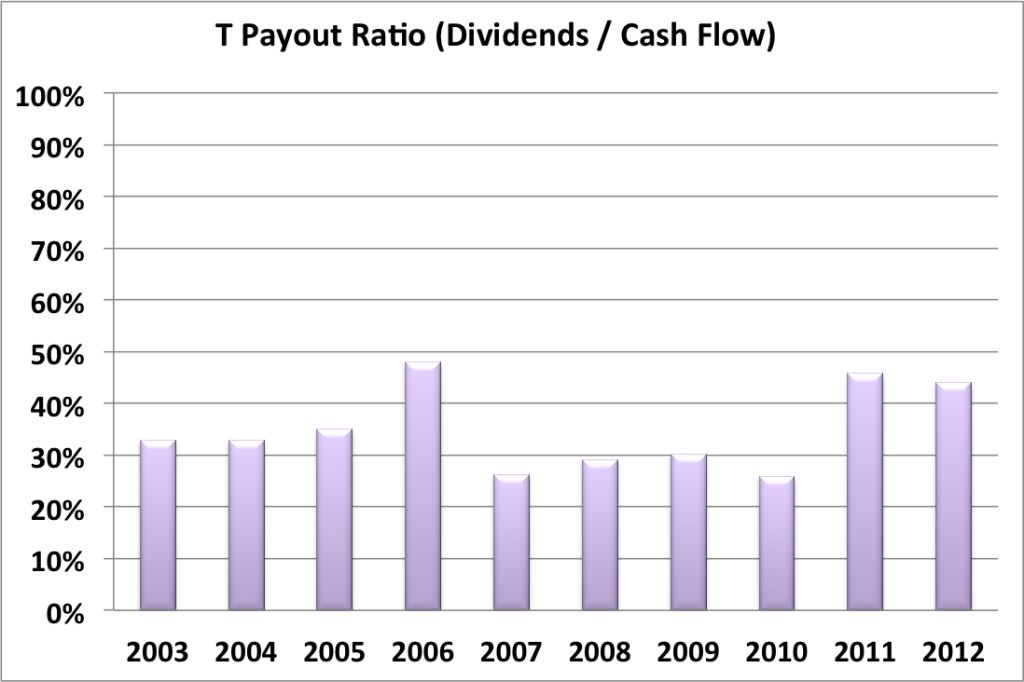 When the payout ratio is compared to cash flow, a much different story emerges.  Namely, a low and reasonably sustainable payout ratio.
T Balance Sheet
The current debt of capitalization is 41% and has remained around that level for the last five years.
T Risks
Verizon (VZ) and AT&T (T) largely dominate the cell phone service market.  Sprint and T-mobile continue to nip at their heels, but so far haven't been that effective at taking away customers.  There is some threat from the burgeoning low cost and pre-paid markets, but these companies tend to get lower quality phones and have sketchy service at best.  That doesn't mean that they won't improve over the next few years, only that they aren't a major threat at the moment.
T faces substantial competition in its wireline operations, with cable telephony overlapping with 75% of T's overall wireline operations.  This does add some risk, however keep in mind that"competition" should appear in quotes since there is no true competition in the broadband market, which is much better described as an oligopoly.
Also as long as the US economy remains week, we can expect consumers to hold back on spending more money on wireline and broadband connections.
T Valuation Panel

Graham Number
The Graham number represents one very simple way to value a stock.  The Graham number for T is $21.80. The stock price is higher than the Graham number, suggesting that T may be slightly overvalued valued at the moment.
However, as we saw above, the EPS for T was abnormally low, suggesting that the Graham number is likely a meaningless valuation metric for this stock at this time.
Two Stage Dividend Discount Model
Given the slow rate of dividend growth, using the two stage model would not be appropriate.
One Stage (Gordon Growth) Dividend Discount Model
Using a growth rate of 2.4% and a 10% discount rate, the one stage model produces a value of $24.25, suggesting that T is overvalued.
Historical Yield Comparison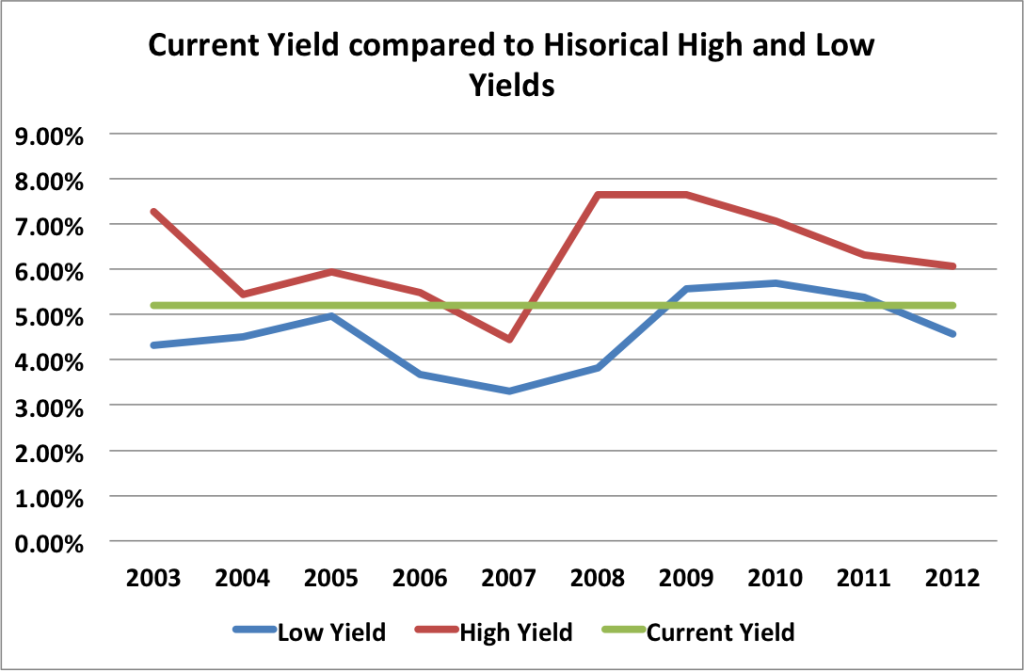 This figure is built by plotting the highest dividend yield each year (red line) and the lowest dividend yield of each year (blue line).  Basically, I took the yearly divided it by the yearly high and low of the stock price to get the two yields.  The green line represents the current dividend yield.  The closer the green line comes to the red line, the more undervalued the stock is.  Since the green line is slightly above the blue line, T is a bit overvalued.  Maybe fair valued if you want to give it the benefit of the doubt.
Note:  This valuation method was adapted from JC at www.passive-income-pursuit.com.
Valuation Conclusion
Both of the valuation models that I have faith in point to T being overvalued at the moment.
T Cash Secured Puts
Given that T appears overvalued at the moment, I'm not going to recommend buying it or selling puts against it.
Conclusions
While I like AT&T as a company (it was actually one of the first 5 dividend growth stocks I purchased —  memories), at present it is too overvalued for me to add to my position.  Given the snails pace of dividend growth, this is a good company to grab when the rest of the market is hating it.  Maybe towards the bottom of the next market correction.
Disclosure: I am long T.

Readers:  What are your opinions about AT&T?
Filed under: Stock Analysis · Tags: att, stock analysis, t