My Financial Independence Journey » Stock Analysis » Air Products and Chemicals (APD) Dividend Stock Analysis

Air Products and Chemicals (APD) is one the largest global producers of industrial gasses and has a large specialty chemical industry as well.  APD has a global reach with 57.2% of its sales coming from foreign sources.  The company is divided into 4 main business units. 1) Merchant Gases which includes gases used in a variety of industries including health care, food processing, steel, and manufacturing accounts for 38.1% of sales. 2) Tonnage gases which includes gases meant for the refining, chemical, and metallurgical industries accounts for 33.3% of sales. 3) Electronics and Performance Materials which provides gases, services, and equipment to the electronics industries (semiconductors, LCD displays, solar cells, etc) accounts for 24.2% of sales. 4) Equipment and Energy which provides cryogenic and gas processing equipment accounts for 4.4% of sales.  APD has also been involved in a number of acquisitions and partnerships over the last few years which may help bolster APD's earnings in 2013 and beyond.
APD Basic Company Stats
Ticker Symbol: APD
PE Ratio: 15.56
Yield: 3.3%
% above 52 week low: 75.1%
Beta: 1.1
Market cap: $18.05 B
Website: www.airproducts.com
APD vs the S&P500 over 10 years

APD seems to be roundly beating out the S&P500 since about 2007.  After 10 years an investment in APD would have increased by about 113% compared to 83% for the S&P500.
APD Earnings Per Share (EPS) & Dividend Growth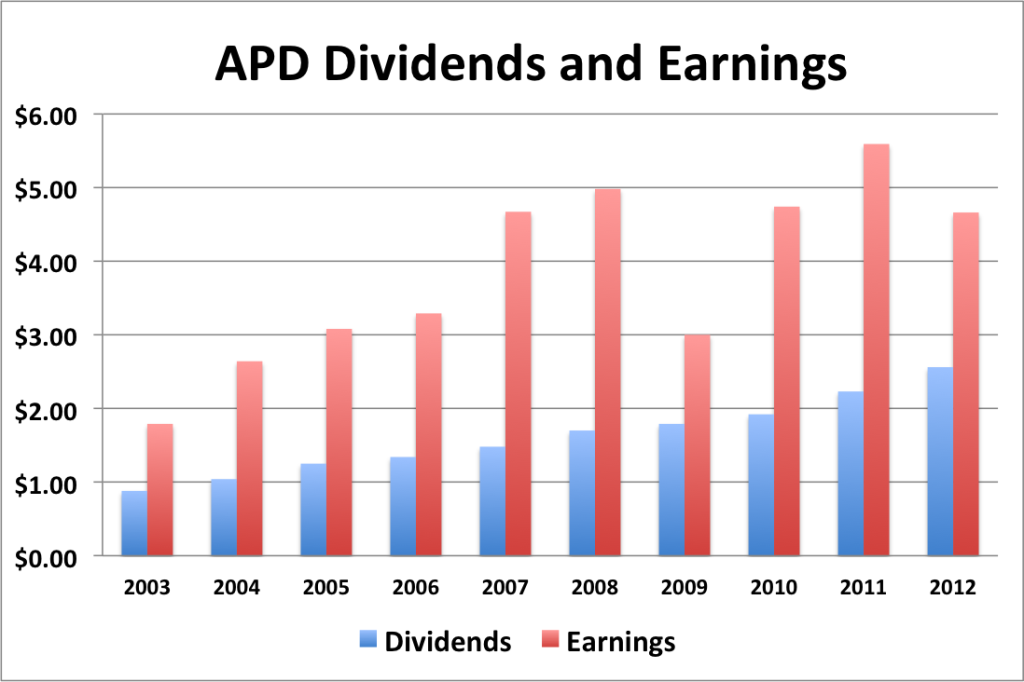 1 year EPS growth: -6.6%
3 year EPS growth: -0.8%
5 year EPS growth: -1.6%
10 year EPS growth: 11.2%
EPS growth for APD appears to be a little bit sporadic but generally trending upwards.  There was a big dip in 2009, which corresponded with the Great Recession, but neither 2010 nor 2012 had earnings as high as 2008.  Generally, earnings appear as though they may be leveling off.  However, as the economy improves and there is greater demand for APD's products, earnings may resume regular increases.
1 year dividend growth: 14.8%
3 year dividend growth: 15.5%
5 year dividend growth: 10.8%
10 year dividend growth: 12.6%
Dividend growth for APD has been greater than 10% for the 1, 3, 5, and 10 year periods shown above.  It's even likely that APD's dividend is entering a period of accelerating growth.
With a starting yield of 3.3% and a growth rate of about 12%, APD's yield on cost will grow to about 10% in 10 years.  In order to double the dividend, using the rule of 72, it will take approximately 6 years.
APD Payout Ratio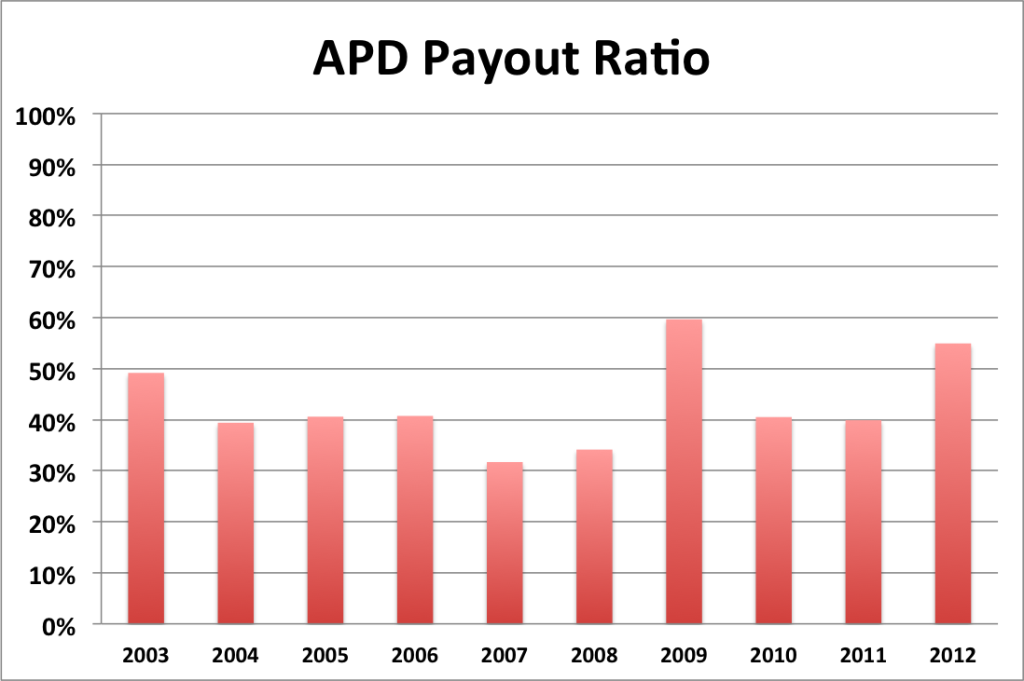 APD's payout ratio has remained relatively low. It topped 50% only twice, once in 2009 and once in 2012.  This payout ratio still leaves plenty of room for APD to increase its dividends in the future.  However, if dividends continue to increase and earnings do not follow suit, I would expect to see the payout ratio creeping upwards.
AFL Cash Flow & Revenue Growth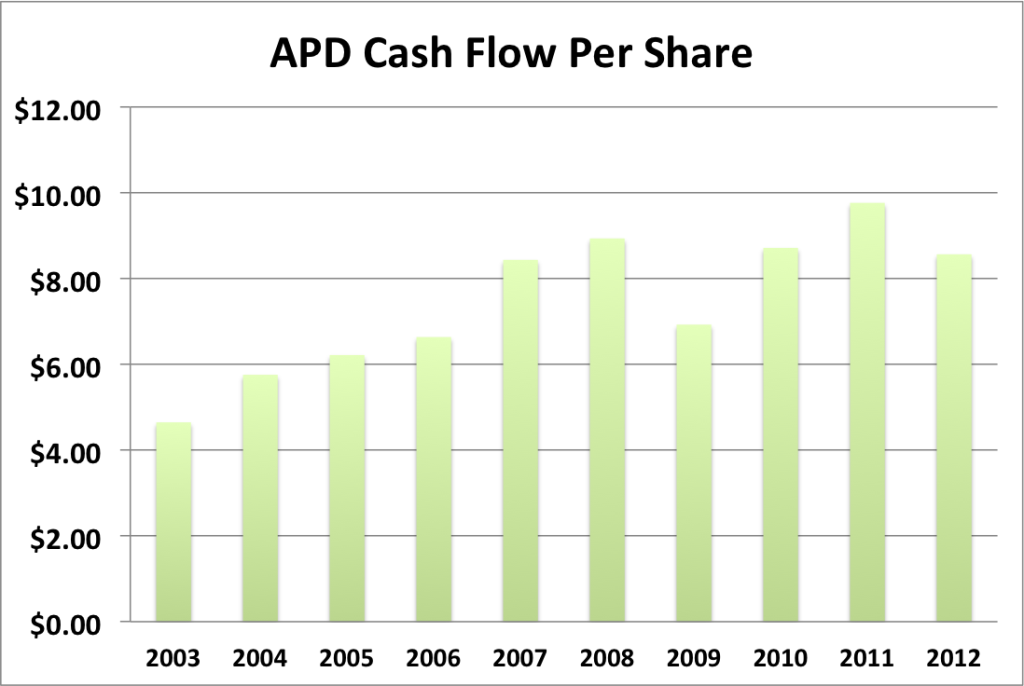 1 year revenue growth: -4.7%
3 year revenue growth: 3.2%
5 year revenue growth: -2.0%
10 year revenue growth: 4.8%
APD's revenue and cash flow are mimicking its EPS, and appears to be leveling off in recent years.  This is likely due to the economic slow down, but could become a concern if things don't pick up in the next couple of years.
APD Balance Sheet
The current debt to equity ratio for APD about 71%, which is much higher than other equities (~40%). However, APD has usually had a high debt to equity ratio so these numbers don't raise too many alarms.  It should be noted while that this is currently the highest debt to equity ratio that the company has had in the last decade some of that debt was accrued during the acquisition of other companies, so it may not be as bad as it seems.
APD Risks
The biggest risks facing APD at the moment is the prolonged economic slowdown.  APD's products are used to manufacture other products, so if global demand rises, I would expect APD to do well.  I am generally optimistic about APD's recent mergers and partnerships as they will expand its global presence and likely boost the bottom line in the upcoming years.
APD Valuation Panel

Graham Number
The Graham number represents one very simple way to value a stock.  The Graham number for APD is $61.77.  The current stock price is well below that, suggesting that APD may be overvalued at the moment.
Two Stage Dividend Discount Model
Using a risk free rate of 2%, an expected return of 10% and the beta of 1.1, the CAPM model provides a discount rate of 18.8%.  Using an initial growth rate of 15% for 5 years and a slower growth rate of 7%, the two stage model produced a value of $37.62.  I also tried this model with a discount rate of 10% and got $145.60.
Valuation Conclusion
Of the three different models tested, the median value is $61.77, which is lower than APD's stock price suggesting that it is overvalued at the moment.
APD Cash Secured Puts
I feel that APD is fairly valued at the moment, so how confident you you should in selling a put with the intention of it expiring worthless would depend on how confident you are that the economy improves.  Over the long term, I feel that this will happen and that APD's stock price will rise as orders for its products pick up.  So I would feel somewhat confident selling long term puts against this stock.
Conclusions
Overall, I like APD and may consider adding to my holdings in the future.
Disclosure: I am currently long APD.

Readers:  What are your opinions about Air Products and Chemicals?
Filed under: Stock Analysis · Tags: air products, air products and chemicals, APD, stock analysis