My Financial Independence Journey » Stock Analysis » Proctor and Gamble (PG) Dividend Stock Analysis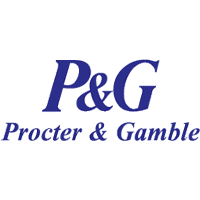 Proctor and Gamble (PG) is a leading company in the manufacture of household and personal care products.  The company has five main business segments: beauty (24% of sales) , grooming (10% of sales), health care (15% of sales), fabric and home care (32% of sales), and baby and family care (19% of sales).  The company has around 25 commonly recognizable brands including Tide, Gillette, Crest, Dawn, Duracell, Charmin, and Pampers.  The US and Canada account for about only 39% of P&G's total sales and the company is currently undergoing a restructuring plan designed to cut down on overhead and increase profit margins.
PG Basic Company Stats
Ticker Symbol: PG
PE Ratio: 18.18
Yield: 2.8%
% above 52 week low: 97.3%
Beta: 0.31
Market cap: $218.75 B
Website: www.pg.com
PG vs the S&P500 over 10 years

PG seems to be moving on par with the S&P500. After 10 years an investment in PG would have increased by about 80%, compared to about 83% for the S&P500 as a whole.  Basically par for course.
PG Earnings Per Share (EPS) & Dividend Growth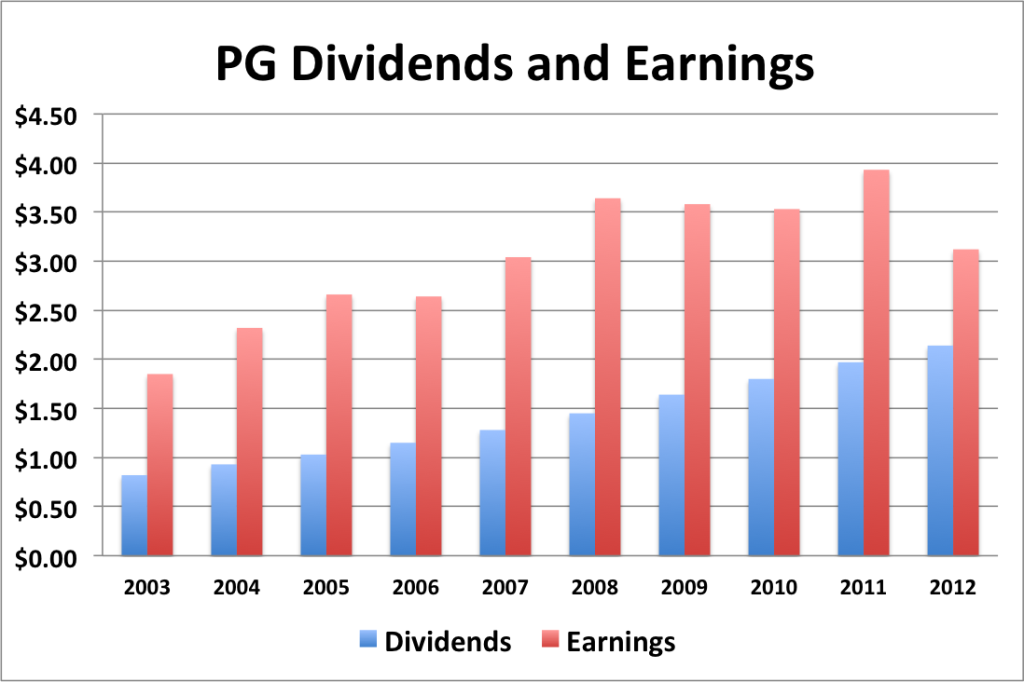 1 year EPS growth: -20.6%
3 year EPS growth: -6.0%
5 year EPS growth: -3.8%
10 year EPS growth: 6.0%
EPS growth for PG appears to be flat over the last few years with a dip in 2012.  I'm comfortable assuing that the 2012 dip may be transient, but I don't foresee a substantial upward trend in earnings any time soon.
1 year dividend growth: 8.6%
3 year dividend growth: 9.0%
5 year dividend growth: 10.2%
10 year dividend growth: 11.2%
Dividend growth for PG appears to be decelerating over the last decade.  8.6% growth is still not bad, but I do not see dividend growth being able to speed up unless EPS beings increasing again.
With a starting yield of 2.8% and a growth rate of about 9%, PG's yield on cost will grow to about 7% in 10 years.  In order to double the dividend, using the rule of 72, it will take approximately 8 years.
PG Payout Ratio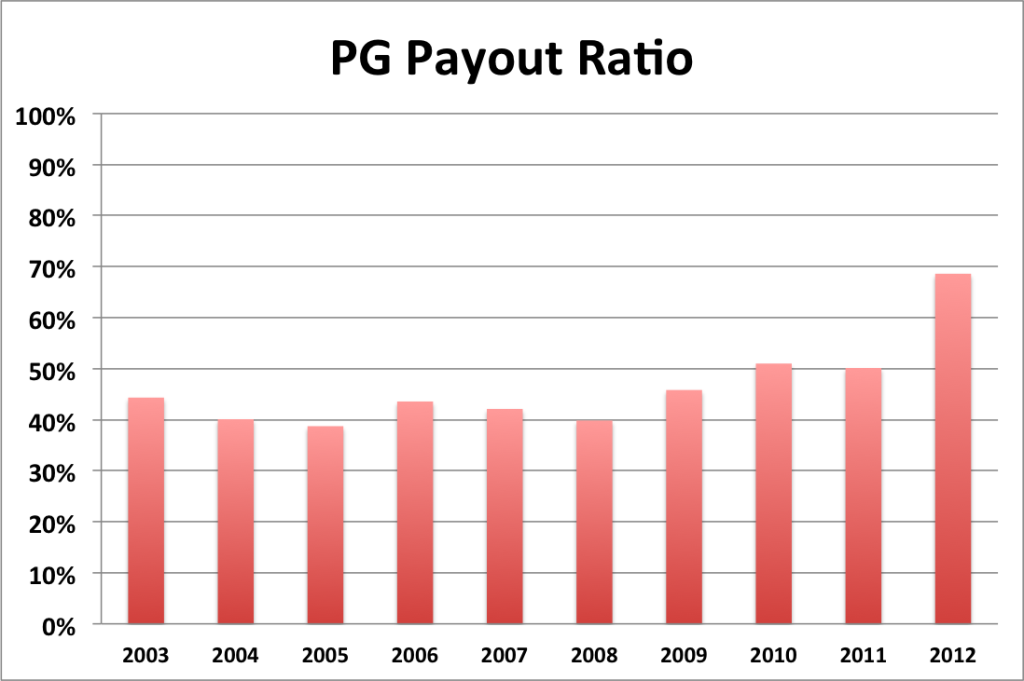 PG's payout ratio has remained relatively flat in the 40 range  before 2008.  However, afterwards it has creeped up to 50%.  In 2012 the payout ratio was almost 70% due to a drop in earnings.  This spike is likely transient, but the overall trend upwards in payout ratio is likely real.  Unless PG can begin growing its earnings again, it's going to have a hard time continuing to increase it's dividend.
PG Cash Flow & Revenue Growth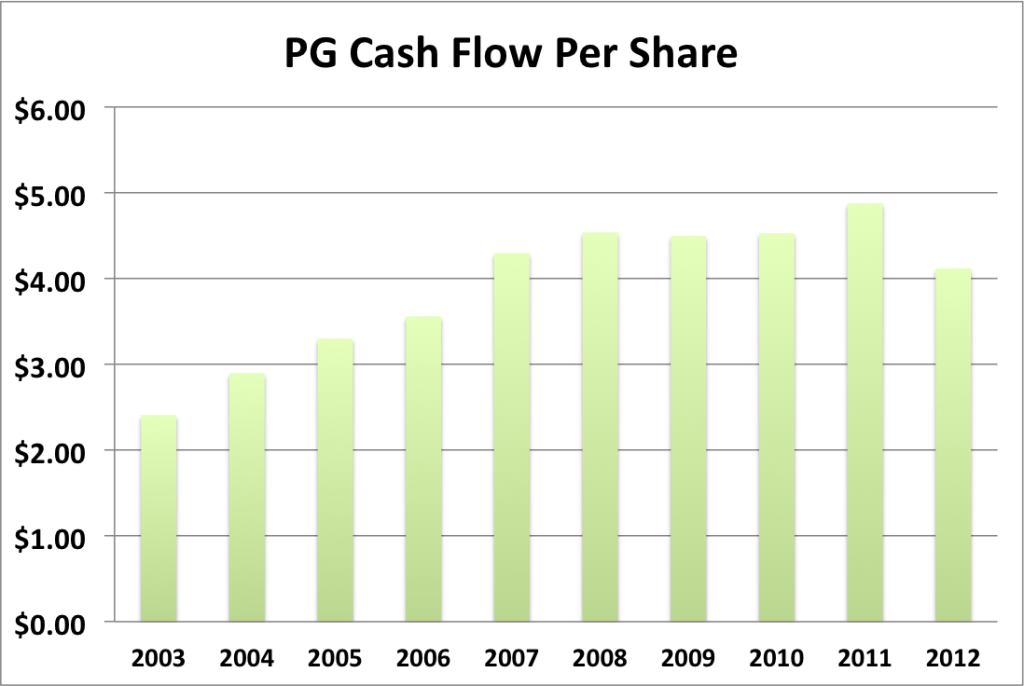 1 year revenue growth: 1.4%
3 year revenue growth: 3.0%
5 year revenue growth: 0.1%
10 year revenue growth: 7.6%
PG's revenue growth and cash flow further confirm what the EPS and dividend growth numbers above are showing.  Namely, that PG is having a hard time increasing it's revenue over the last 5 years or so.
PG Balance Sheet
The current debt to equity ratio for PG about 36%, which is a bit lower than other equities (~40%).  The debt to equity ratio has also remained stable for the last 5 years.
PG Risks
PG has several risks to it's business that are worth noting.  First and foremost, just how much innovation is left in the personal and home care products universe?  Not to be too sarcastic, but just how many more blades can they stick on a razor and still have someone notice a difference? Without innovation new competitors can spring up relatively easily in the form of other major worldwide brands, generic products, niche brands with a unique marketing kick (e.g. Seventh Generation).
PG also has low exposure to emerging markets, which is a shame because these markets are areas where PG should be able to experience some incredible growth.
PG Valuation Panel

Graham Number
The Graham number represents one very simple way to value a stock.  The Graham number for PG is $48.79.  The current stock price is well below that, suggesting that PG may be overvalued at the moment.
Two Stage Dividend Discount Model
Using a risk free rate of 2%, an expected return of 10% and the beta of 0.31, the CAPM model provides a discount rate of 12.5%.  Using an initial growth rate of 9% for 5 years and a slower growth rate of 7%, the two stage model produced a value of $50.04.  I also tried this model with a discount rate of 10% and got $89.86.
Gordon Growth Dividend Discount Model
Using the 12.5% discount rate, this model returns a value of $62.98.  Using a more conservative 10% discount rate we  get a value of $174.54.
Valuation Conclusion
Of the five different models tested, the median value is $62.98, which is lower than PG's stock price suggesting that it is overvalued at the moment.
PG Cash Secured Puts
PG seems like it's overvalued by way of PE ratio or valuation models.  Short term puts might be worth selling, as the rising market overall should prevent assignment.  But in the long term, I suspect that many overvalued stocks will deflate so I wouldn't sell a long term put against PG since I don't want to own PG at its current prices.
Conclusions
Overall, I feel that PG makes good products.  However it appears to be overvalued at the moment, has a decreasing dividend growth rate, and relatively flat earnings and revenue growth.  I might consider an investment on a substantial dip in price, but not currently
Disclosure: Noting to disclose.

Readers:  What are your opinions about Proctor and Gamble?
Filed under: Stock Analysis · Tags: pg, proctor and gamble, stock analysis