My Financial Independence Journey » Stock Analysis » Coca Cola (KO) Dividend Stock Analysis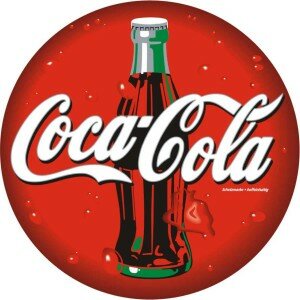 Coca Cola (KO) is is the world's largest producer of soft drink concentrates and syrups, as well as the world's biggest producer of juice and juice-related products.  Coca Cola's products are sold in over 200 countries world wide and it owns or licenses over 500 brands.  You're probably already aware of many Coca Cola products, but did you know that they also make Fanta, Full Throttle, Sprite, Barq's, Pibb Xtra, Mello Yello, Tab, Fresca, and Aquarius.  Over the years there has been more growth in on carbonated beverages than carboanted ones, but that won't stop KO because it also owns the Dasani, Minute Maid, and Powerade brands among others.
KO Basic Company Stats
Ticker Symbol: KO
PE Ratio: 19.56
Yield: 2.8%
% above 52 week low: 62.5%
Beta: 0.33
Market cap: $180.3 B
Website: us.coca-cola.com
KO vs the S&P500 over 10 years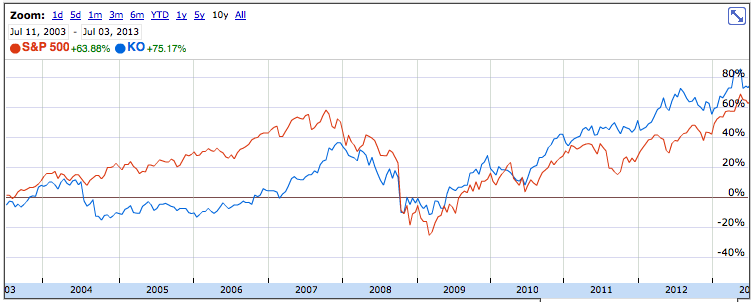 KO has roughly tracked the S&P500 over the last 10 years.  Over that time, an investment in KO would have grown by 75% compared to the 64% that an investment in the S&P500 would have grown.
KO Earnings Per Share (EPS) & Dividend Growth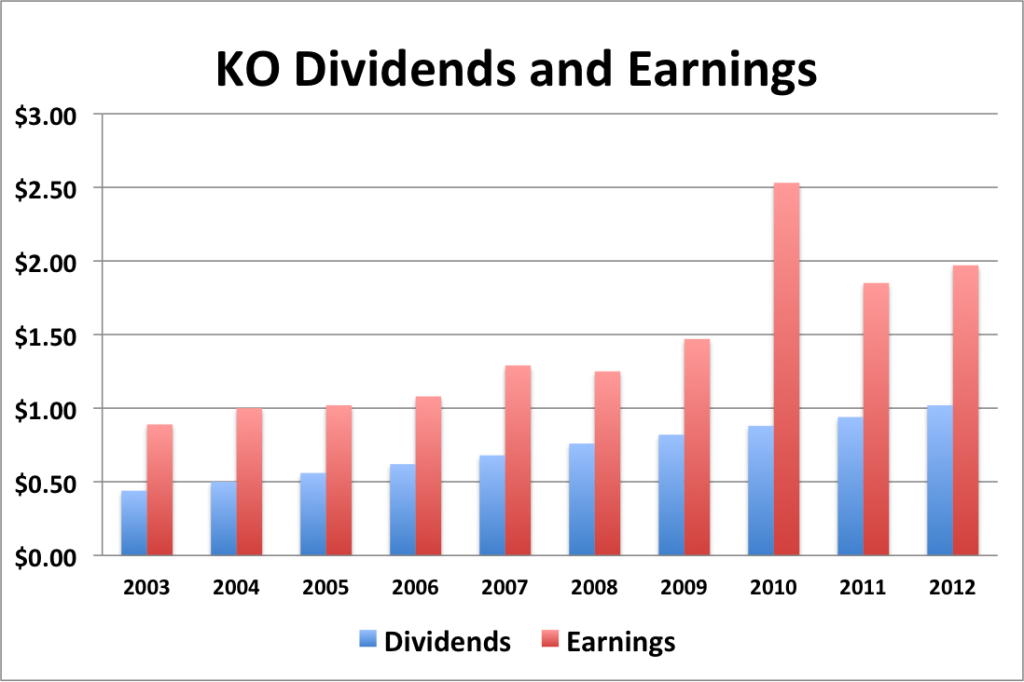 1 year EPS growth: 6.5%
3 year EPS growth: -11.8%
5 year EPS growth: 12.0%
10 year EPS growth: 9.2%
EPS growth for KO was generally upwards with a slight dip in 2008 and a big spike in 2010.
1 year dividend growth: 8.5%
3 year dividend growth: 7.7%
5 year dividend growth: 7.6%
10 year dividend growth: 9.8%
Dividend growth for KO has been solid.  9.8% over 10 years is pretty solid growth for an established company like KO.  And if we look at the 1, 3, and 5 year dividend growth it looks like it might be accelerating.  Another good sign for a dividend investor.
With a starting yield of 2.8% and a growth rate of about 8.5%, KO's yield on cost will grow to well in excess of 6.8% in 10 years.  In order to double the dividend, using the rule of 72, it will take less than 8.5 years.
KO Payout Ratio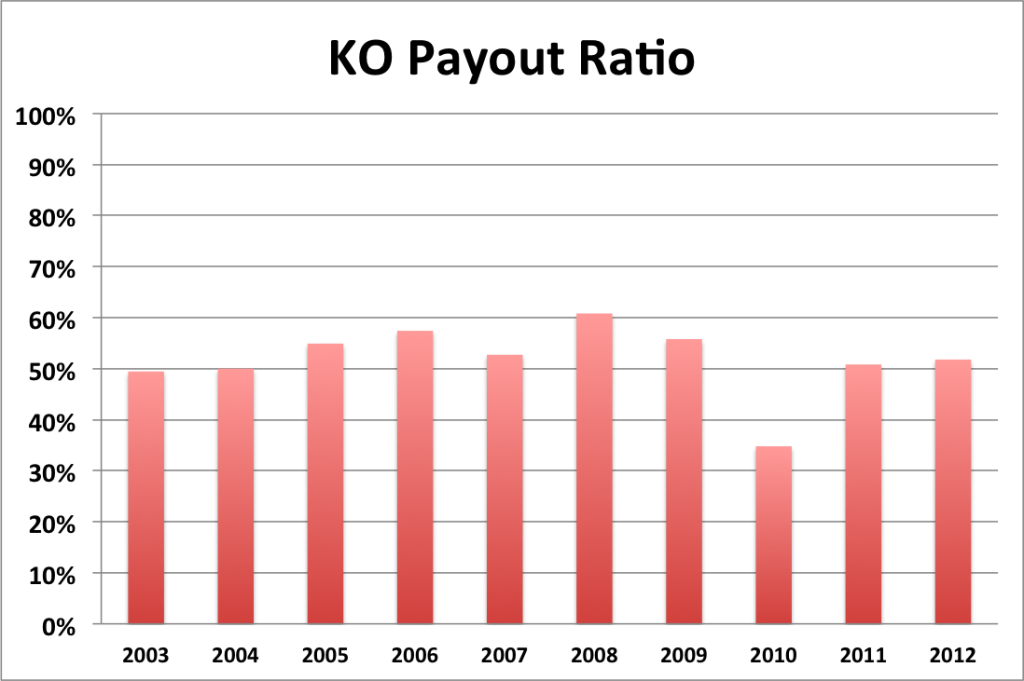 KO's payout ratio has been generally hovering in the 50% range. It did dip a bit in 2010 due to the spike in earnings but quickly returned to its historic norm.
KO Cash Flow & Revenue Growth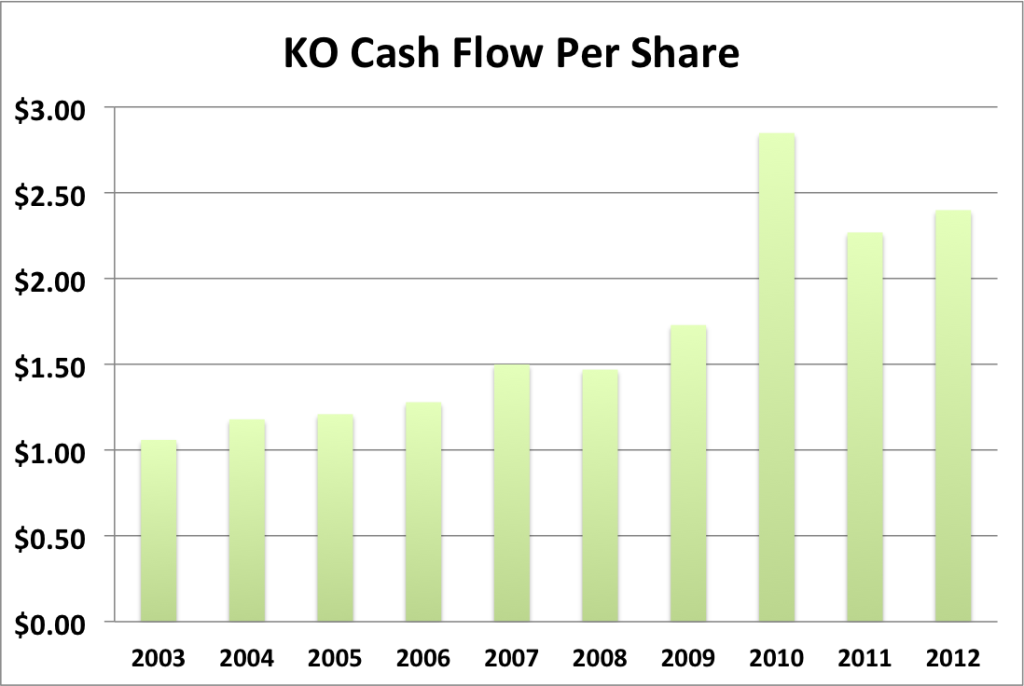 1 year revenue growth: 3.2%
3 year revenue growth: 16.9%
5 year revenue growth: 10.7%
10 year revenue growth: 9.6%
KO's cash flow has generally mirrored it's EPS, slightly dipping in 2008, spiking in 2010, but otherwise displaying a nice constantly upwards trend.  Revenue growth has also been quite respectable over the last 10 years as well.
KO Balance Sheet
The current debt to equity ratio for GE is about 45%.  There has been an increase in debt to equity over the last 10 years, but it appears to have leveled out around 45%.  I don't see anything to worry about here.
KO Risks
I'd like to say that the rapid growth in non-carbonated beverages would be a hindrance to KO, but I can't because as I mentioned above, KO owns popular brands like Dasani and Minute Maid.
Because KO does business all over the world it is subject to currency fluctuations.  But it hedges against these through the use of currency futures and options.  These markets are prone to speculation so there is always the risk that some aggressive speculator (eg George Soros) could cause problems.
Overall, I just don't see KO facing any major risks at this time.  It's good to be the king of soft drinks.
KO Valuation Panel

Graham Number
The Graham number represents one very simple way to value a stock.  The Graham number for KO is $17.71. The stock price is higher than the Graham number, suggesting that KO may be overvalued valued at the moment.
Two Stage Dividend Discount Model
KO's dividends are currently growing at around 8.5%.  Since there isn't a period of rapid dividend growth, the two stage model won't be  useful for KO.
One Stage (Gordon Growth) Dividend Discount Model
Using a growth rate of 8.0% and a 10% discount rate, the one stage model produces a value of $60.48 (undervalued).  Using a discount rate of 12.6% as predicted by the CAPM model (2% risk free rate; beta 0.33), provides a value of $26.07 (overvaluled).
Valuation Conclusion
Of the different models tested, 2 of 3 suggest that KO is overvalued.
KO Cash Secured Puts
I feel that KO is currently overvalued, so I would not suggest buying it at current prices, nor would I suggest selling puts against it.
Conclusions
I love KO as a company.  It's a business powerhouse and a textbook dividend growth stock.  At present, based on the PE ratio and my valuation panel I feel that KO is overvalued.  If it dips back into fair value range, I would consider adding to my position.
Disclosure: I am long KO.

Readers:  What are your opinions about Coca Cola?
Filed under: Stock Analysis · Tags: coca cola, ko, stock analysis